Brick Retaining Walls Gold Coast | Brickwork Experts
At Gold Coast Pro Bricklayers, we are a team of experienced professionals that provide top-notch brick retaining wall installation solutions in the Gold Coast region. We pride ourselves on delivering high-quality workmanship, using only the best materials and techniques. 
We always aim to install durable and long-lasting brick retaining walls that meet the specific needs of our clients. With years of experience in the industry, we have developed a reputation for our attention to detail, reliability, and commitment to customer satisfaction. 
Contact us today to discuss your brick retaining wall needs.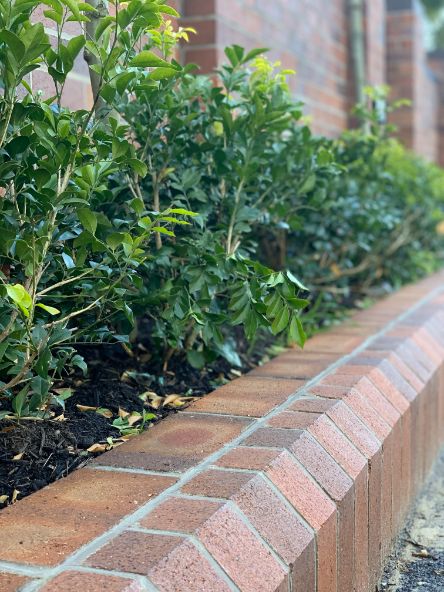 Why Choose Us for Brick Retaining Wall Installations?
At Gold Coast Pro Bricklayers, we are confident that we are the right team for any brick retaining wall installation project in the Gold Coast region. There are several reasons why people should choose us for their bricklaying needs. These are the following:
Our team has years of experience in bricklaying and retaining wall installation. We have completed numerous projects over the years, each with its unique challenges and requirements. Our expertise and knowledge in installing brick retaining walls enable us to confidently handle any project, big or small.
Quality Brickwork Results
We take pride in our work and strive for excellence in everything. We use only the best quality materials and equipment to ensure that our work meets the highest standards. We pay close attention to every detail and take the time to ensure that the finished product is both beautiful and functional.
We understand the importance of safety in any construction project. Our team follows strict safety protocols to ensure that our work is completed safely and without incident. We are fully insured, licensed, and bonded, giving our clients peace of mind that they are working with a reputable and responsible company.
Our clients are our top priority, and we go above and beyond to ensure their satisfaction. We work closely with our clients to understand their needs and preferences and offer personalised service to ensure that their vision is brought to life. We communicate openly throughout the project, ensuring our clients are always informed.
We understand that cost is an essential factor for our clients, and we always strive to offer competitive pricing without compromising on quality. We provide detailed and transparent quotes upfront, ensuring that our clients know exactly what to expect before we begin the project.
Why Use Brick as a Material for Retaining Walls
Brick is a popular and versatile material used in construction projects, including retaining walls. There are several benefits to using brick as a material for your retaining walls:
Bricks are highly durable and can withstand harsh weather conditions, making them an ideal choice for retaining walls that need to withstand significant pressure. Brick retaining walls can last for decades with minimal maintenance. That is why many homeowners choose them because they make for a cost-effective long-term solution.
Brick retaining walls add an elegant and timeless look to any landscape. Brick comes in a range of colours, sizes, and textures. These traits allow you to create a retaining wall that complements your property's existing style and design. These walls can also be designed in various patterns, such as herringbone and basketweave.
Requires Minimal Maintenance
Brick retaining walls require minimal maintenance compared to other materials. Brick, as a material, is resistant to rot, decay, and infestations. This means you do not need to repair or replace them regularly. Brick retaining walls are also easy to clean and can be pressure washed with a mild detergent to remove any dirt.
Bricks are made from natural materials, such as clay and shale, making them an environmentally friendly choice for retaining walls. Bricks are also recyclable, and old bricks can be repurposed or crushed and used as a base material for new brick retaining walls.
Brick retaining walls add value to your property by enhancing its appearance and functionality. Well-designed and well-built brick retaining walls can increase the kerb appeal of your property. Such attractiveness will make properties more attractive to potential buyers, which is handy if you plan to sell in the future.