We are not just another brick in the wall company, we are your go to guys for all forms of brick restoration, renovation or maintenance.
Our blocklayers give your work a wonder touch, matching existing brickwork and leaving your walls good as new in the most undetectable way. Your brickwork deserves a stunning finish uniform to existing bricks. Our services are affordable and we are always available whenever you need us. Call us today!
We are your local, loyal, and competent brick repairing experts of precision craftsmanship. We are a skilled team with a wealth of experience and legacy in brick repairs, repointing, maintenance and other services in and across The Gold Coast, Queensland. We are so good at what we do and ensure we are providing the highest level of customer service to all our clients. Whether you are anywhere from Bundall, Molendinar, Broadbeach Waters or Clear Island Waters– and whoever you are –home or business owner, property manager, or a major contractor– hire us today! From cracked walls to crumbling fences, old and worn out structures or you just desire a whole new look altogether, our bricklayers Gold Coast are top masonry repair contractors. Our team make sure the removal and replacement of broken or cracked bricks are undetectable. We undertake small residential jobs to large scale repairs on public buildings and commercial outlets. Here in good old Queensland, brick restoration is one of the many areas we specialize in. We like to use a combination of expertise and innovative ideas to craft your ideal wall. Our dedicated blocklayers along with state-of-the-art technology ensures your new or old brick home looks great and stays in pristine condition. Gold Coast Pro Bricklayers are not satisfied until you are. We are brick repair professionals and it is our job to help you. Let us help keep the charm alive in your Queensland home or business!
we offer gold standard­­ quality you can trust.
Brick Repairs Gold Coast | Experienced Bricklayers
Gold Coast Pro Bricklayers takes great pride in providing high-quality brick repair services to the Gold Coast community. Our team of experienced bricklayers has a wealth of knowledge and expertise in repairing all types of brickwork. Whether you need help with small cracks or more extensive damage, we have the crew for you.
We understand the importance of maintaining your property's structural integrity and aesthetic appeal. That's why we always strive to deliver the best possible results. Our commitment to using only the finest materials and techniques ensures that your brickwork will be restored to its former glory in no time.
Give us a call to schedule an appointment with our experts for reliable brick repair solutions.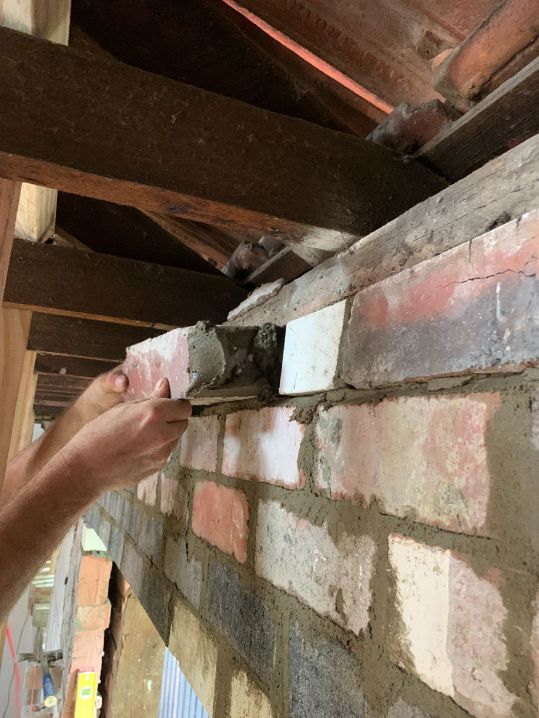 Importance of Brick Repairs
Brick repairs are essential to maintaining the structural integrity and aesthetic appeal of any building. Here are the main reasons why you should invest in timely maintenance for your brickwork:
Brick repairs can prevent further damage from occurring. A small crack in your brickwork can quickly become a bigger problem if it's not addressed promptly. By repairing damage early on, you can prevent more significant issues from developing and save yourself time and money in the long run.
Maintain Structural Integrity
Bricks are a critical component of a building's structural integrity. If they're damaged or weakened, it can compromise the stability of the entire structure. Timely repairs can help maintain the strength and stability of your brickwork, preventing more severe problems from developing.
Preserve Aesthetic Appeal
Brickwork is a defining feature of many buildings, adding a distinctive look and feel. Damage to your brickwork can be unsightly and detract from your property's overall appearance. Brick repairs can restore your brickwork to its former beauty and help maintain your property's aesthetic appeal.
Investing in brick repairs can increase the value of your property. Well-maintained brickwork is a desirable feature for potential buyers for several reasons. However, damaged brickwork can negatively impact the perceived value of your property. Getting timely brick repairs is essential to avoid this from happening.
Choose Us for Brick Repairs in Gold Coast
At Gold Coast Pro Bricklayers, we are the go-to experts for brick repairs in the Gold Coast region. Our team of experienced bricklayers has the knowledge and expertise to repair any type of brickwork, big or small. 
Hiring Gold Coast Pro Bricklayers for your brick repairs in Gold Coast comes with many benefits. We offer reliable and efficient services, ensuring that your repairs are completed in a timely and cost-effective manner. 
Ready to get started? Call us today to schedule an appointment with our brick specialists.