Our elegant brick walls double as both a border and a decorative element of your property, standing out as a clear framework for your central design features. It brings clean and sharp edges to your property, bestowing a stately and strong impression to the surroundings.
At Gold Coast Pro Bricklayers, we are your brick fencing experts. Considering a perimeter wall, or a partitioning wall? Gold Coast Pro Bricklayers will create the boundary your property needs. We have a wide range of bricks and blocks to choose from to give your space the deserved look. We offer both traditional finishes and contemporary style designs and can blend them seamlessly into planned surroundings, to construct the wall most suited to your landscape.
Many brick fence designs to choose from
Our portfolio showcases our variety of brick and blockwork constructed across the Gold Coast including in Mermaid Beach, Main Beach, Bundall, Molendinar, Broadbeach Waters and Clear Island Waters. You can feast your eyes on our innovative designs and pick what best suits the vision for your property.
We understand the importance of boundary walls and brick fencing as one of the most important elements in the presentation of your house. Our walls make a bold statement to the world and complement the style of your house. If you're looking to build a brick fence to maximize security and privacy look no further than the team at Gold Coast Pro Bricklayers. Our services include but are not limited to:
Brick and steel / wrought iron
Our custom brick fences bring you the best –quality and durability– in aluminum fences. We are your plug for a variety of brick and steel fencing options and designs. These designs are adaptive and enhance the aesthetics and value of your Queensland home. Whether you are looking for rendered brick fences, solid concrete blocks and need to speak to the brick fencing experts, our fence builders Gold Coast have the best in store for you. Check out our work for eye catching options best suited for your property.
Bricklayers Gold Coast are experts at making unique solid brick walls. We design your dream fence, build it seamlessly within the stipulated time frame and with the most competitive prices. Our team of professional bricklayers utilise superior brick products to ensure your blockwork is built to last. Our perfect brick wall fence designs can improve the look and security of your property. Our bricks are available in an array of colors and textures or you can come to us with your pre designed plans and we can build to what you are looking for. Gold Coast fences add prestige and style to your home or business.
When it comes to private property fences there are plenty of options, with different designs to suit different tastes and landscapes. So, there is no reason why your house cannot be protected beautifully. Our bricklayers Gold Coast, offer stylish rendered fences which stand out and improve the value of your property. Rendering works wonders on old and worn out fences and gives a facelift to your home. The look is truly something special and getting a fantastic looking fence is easier than you think. So contact Gold Coast Pro Bricklayers today. Our team of expert blocklayers have got you covered on all types of brickwork and brick products all over The Gold Coast, Queensland and it's suburbs. We are creative and adapt to the most relevant innovation and technology which is applied to produce our brick and blockwork, producing bricks of all sizes, design and textures and an astonishing building finish. Our fences are timeless and so is our customer service. Reach out to us now for all your building solutions.
we offer gold standard­­ quality you can trust.
Brick Fence Installations Gold Coast | Professional Bricklayers
Gold Coast Pro Bricklayers is an expert in providing top-notch brick fence installations in the Gold Coast region. Our team of experienced bricklayers is committed to delivering the best workmanship and customer service to all clients.
We understand that a brick fence is an important investment for any property owner, and we take the time to ensure that each installation meets our strict quality and durability standards. Whether you're looking for a traditional brick fence or a more modern design, we have the experience and expertise to bring your vision to life.
Contact us today to know more about our brick fence installation solutions.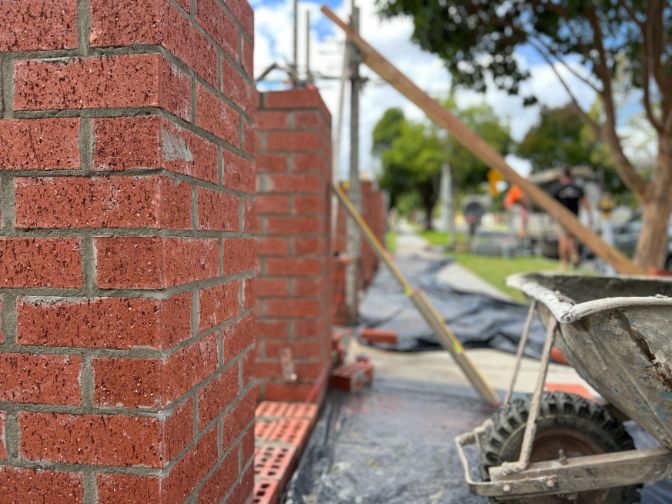 Brick fences have been popular for residential and commercial properties for centuries. They offer a range of benefits, including security, privacy, durability, and aesthetic appeal. 
Let's take a closer look at each aspect below.
Brick fences are highly durable and resistant to damage, making them an excellent choice for security. They are much harder to breach than wooden or metal fences, providing extra protection against intruders.
A brick fence offers much more privacy than other types of fencing. This is primarily due to their durability. They can be designed to block the view of passersby and provide a secluded environment for the homeowner.
Brick fences are highly durable and can last for decades, even in harsh weather conditions. Unlike other types of fencing, they don't require much maintenance to preserve their appearance and functionality. Brickwork also doesn't rot or decay as time goes by.
Brick fences are highly versatile and can be designed to complement any architectural style. They come in a variety of colors and textures, allowing homeowners to create a unique and eye-catching design that enhances the curb appeal of their property.
A brick fence can increase the value of a property by adding to its overall aesthetic appeal and providing an extra layer of security and privacy. This is especially important for those looking to sell their property in the future.
Why Choose Us for Brick Fence Installations?
We are committed to providing our clients in the Gold Coast region with high-quality brick fence installations. Here are some reasons why you should hire us for your next project.
Our team of professionals has many years of experience in the industry and has completed numerous brick fence installations for Gold Coast residents. We are well-versed in various techniques and styles of brickwork, enabling us to provide a tailored solution that meets your unique needs and preferences.
Professionalism and Attentiveness
At Gold Coast Pro Bricklayers, we pride ourselves on our professionalism and attention to detail. We work closely with our clients to ensure that we understand their needs and requirements and keep them informed throughout the project's duration. We use high-quality materials and equipment and always aim for a high standard of workmanship.
We understand that every property is unique, and each client has different preferences and requirements. That's why we provide customised solutions that are tailored to your specific needs. We take into account factors such as the property's architecture, location, and purpose, as well as your budget and timeline, to provide a solution that works best for you.
At Gold Coast Pro Bricklayers, we believe in providing our clients with fair and competitive pricing on all our projects. That's why we offer a range of packages and options to suit your budget without compromising on the quality of workmanship or materials.
Exceptional Customer Service
We value our clients and aim to provide exceptional customer service to fulfill their brick fence installation requirements. Our crew is always available to answer your questions and concerns whenever you choose to work with us. Furthermore, we take pride in our timely and efficient communication throughout any project.
We understand that the quality of materials used in a brick fence installation can significantly impact its durability and overall appearance. That's why we use high-quality materials sourced from reputable suppliers to ensure that your brick fence is built to last.
Call Gold Coast Pro Bricklayers Today
When it comes to the best brick fence installation solutions in Gold Coast, we are the provider for you. Call Gold Coast Pro Bricklayers today to schedule an appointment.